The Old Market
Le 20 October 2023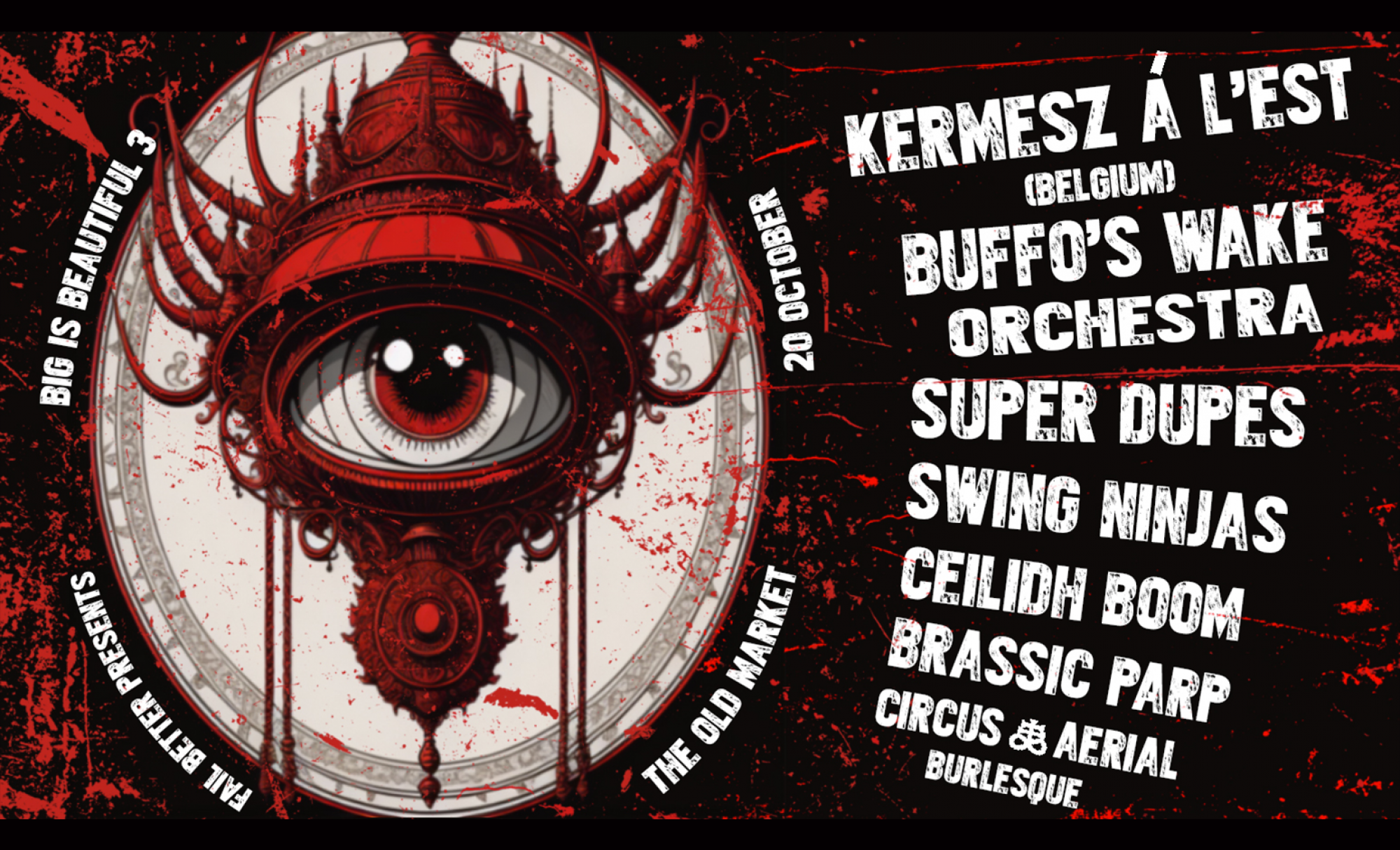 Ajouter au calendrier
Doors 19h
CEILIDH BOOM
Opening the night will be Brighton's only Electro-Ceilidh outfit, Ceilidh Boom. Making the most of the venue, they will lead you through a selection of willow-stripping, Scotsman-flying reels, hornpipes and jigs, welcoming in the night with a big, sweaty, two-step folkie mess!
KERMESZ À L'EST
KermesZ à l'Est is a musical ensemble located at the unique crossroads of Eastern European traditional music, jazz and metal. Formed in 2008, KermesZ à l'Est has forged their own musical identity, which they spread internationally from their native Belgium. The band become dancers and conjure up improbable guests, including a Walloonian necromancer, St. Nicotine, the meandering patron saint of smokers, and, of course, Octo, the group's quadrupedal singer. Wild beasts, black magic, maniacal dances, brutal trumpets and smoking prophets adorn these new-Balkan rantings, embellished with dub metal, math-rock and free-gabber. There is very little we can do to prepare you for what you are about to witness...
THE BUFFO'S WAKE ORCHESTRA
The Buffo's Wake Orchestra return to the Old Market for their yearly foray into the world of self-indulgent extravagance. Their 6-piece Klezmer-punk Carnival Chaos will be supplemented with the very best musicians that Brighton and London have to offer - transforming into a 22-piece cacophonous chamber orchestra, they will take to the stage, forcing you to waltz, tango, mosh and kolo your way through a vast array of influences from Eastern European, Balkan and Russian folk, to punk rock and cabaret, whilst they tell their tall tales of debauchery and deformity. Musical eccentrics, drawing from diverse backgrounds ranging from Drum n' Bass DJs to classically trained string players, punks to funk players and poets to showmen, they're guaranteed to have a few surprises up their collective sleeves. In their time together, they have toured all over the world, finding an inspired, confused, sweaty, and often very drunk reception everywhere they go. Supplemented with a huge horn section, sublime strings, cimbalom, bouzouki, percussion and a chamber choir, this will be an absolutely huge show; their biggest stage show to date. Klezmer Carnival Punks – with influences from Abba to Zappa, Buffo's Wake are guaranteed to leave you dancing like a man possessed!
SUPER DUPES
A thrilling live band, Super Dupes are a dopamine-chasing, groove-laden letter to the ancestors; noisy Woodstocky Jazz! Featuring some of the countries finest jazz instrumentalists, this explosive live band blends afro-jazz influences with an enormous sound, intense dance-floor filling grooves, exploratory and explosive solos and melodic, intense repeating motifs that will force you to move your feet. A beautifully unique mix of world-jazz, post-rock and math-funk, and we are extremely excited to welcome them onstage at TOM for the first time.
Because size is always only relative…
We have also invited some other incredible acts, that whilst comparatively diminutive, are able to pack a far bigger cultural punch than our mere weight of numbers.
THE SWING NINJAS
"Dirty horn-stomping, shouty swing" - mixing the sounds of New Orleans and '30s Parisian swing, they provide the perfect combination of dirty-horn-jazz and Django-esque La Pompe rhythm, while four-part vocal harmonies complete their sound. A synergy of influences and musicianship occurs when these guys get their instruments out – the whole show is somehow greater than the sum of its parts – and audiences are always left spellbound and blown away by the whole experience. Their motto is very apt for the whole Swing Ninja experience – "Hiding In The Shadows of Jazz". This is definitely not chin-stroking jazz – this is dancing, shouting, smiling swing at its finest. Raw, passionate music, at the highest, most entertaining level - whether played to a crowd of 10 or 10,000, The Swing Ninjas never disappoint.
BRASSIC PARP
Brassic Parp (a special off-shoot of Town of Cats, the Meow Meows and Buffo's Wake) will be on hand to provide you with all your essential 90's pop classics - a new type of brass band, blurting out DJ-style pop-medleys and mixing the likes of Limp Bizkit with Celine Dion, Britney with Backstreet Boys, Spice Girls and Taylor Swift. However great these musical medleys might sound, you're never quite sure whether or not these intense brass arrangements are actually just a thinly veiled excuse to dress up as their favourite characters from Jurassic Park.
DJ BOSSLADY
DJ and Producer Bosslady started mixing back in 2006 and making moves in the underground dance music scene. She quickly built a reputation for extremely heavy tune selection and tight mixing skills, leaving the dance floor in flames; seriously this girl is all killers, no fillers and she definitely takes no prisoners! Bosslady's passion for music has led her through different genres over the years and she has been busy travelling the world with her music to bring you a selection of sounds from around the globe. A seriously exciting journey through Moombahton, Dancehall, Bashment, Basshall, Moombahcore, Afro and Latin!